KC School of Motoring provide quality one to one Coach Driving tuition with fully qualified, approved and insured driving instructors who will make your learning experience an enjoyable one.
Information/Requirements for Coach Lessons
Licence Category:
D
Areas Available:
Cork (Ballincollig), Killarney and Tralee
Learner Permit Required?
Yes
Age Requirement :
21
Lesson Prices :
– €150 for 1.5 hrs lesson in our coach
– €150 for 1.5 hrs pre-test trial including assessment form completed by our instructor
– €250 hire of coach for test (includes pre-test lesson)
Mandatory lessons :
None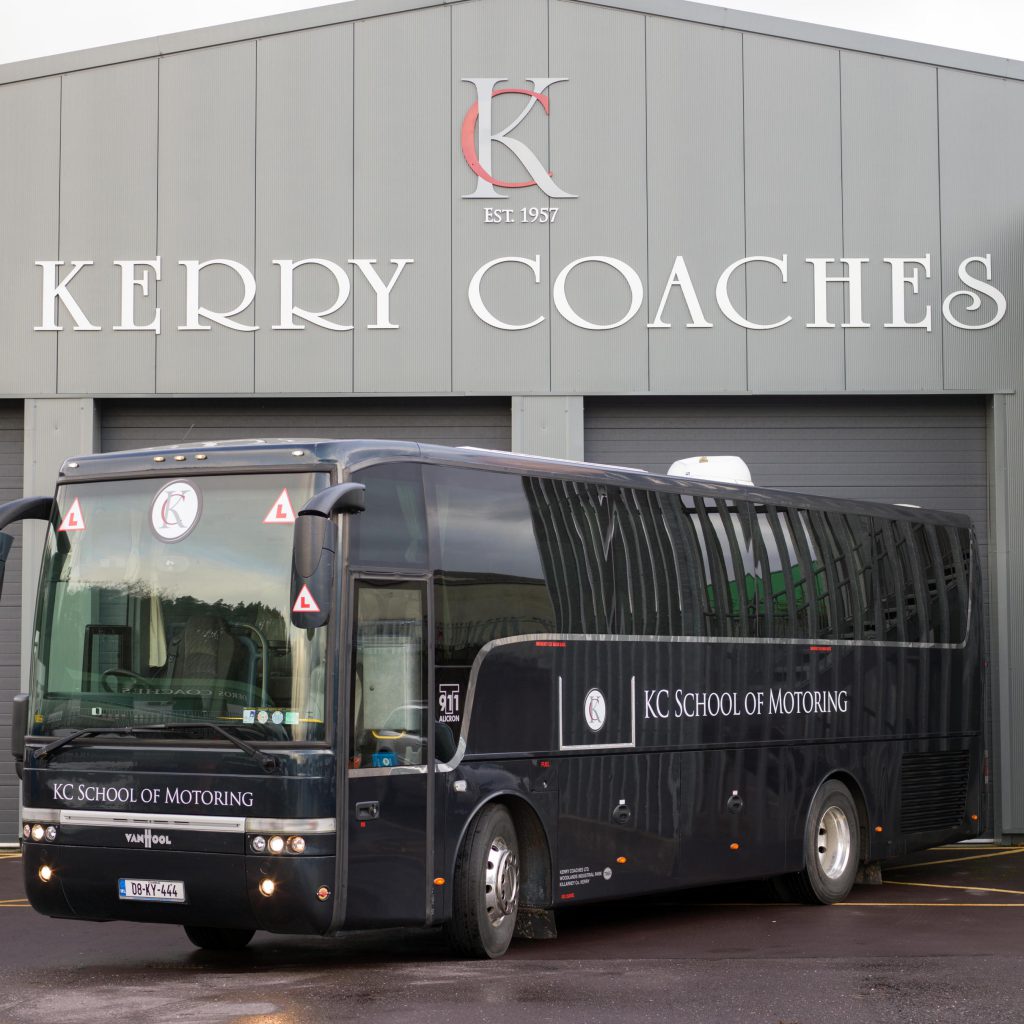 If you intend to drive a bus/coach for a living then you must obtain the Driver CPC qualfication. KC School of Motoring is a Road Safety Authority (RSA) approved facilitator and trainer to carry out Driver Certificate of Professional Competence (Driver CPC) courses for Professional Drivers.

Since 2008, new and prospective Coach Drivers are required to complete the Driver CPC (Certificate of Professional Competency) course.
The CPC course consists of 4 components which each have to be completed along with periodic training each year. The periodic training consists of 35 hours of periodic training spread over 5 years (1 day per year).
There are substantial penalties for non-compliance.
To become a
Professional Coach Driver
you must pass:
Two hour multiple choice theory test.
Two hour case study theory test.
90 minute driving test.
30 minute practical test.
In addition, to maintain your Driver CPC, you must complete 35 hours of periodic training for five years following qualification (one day per year).
Our Complete Coach Package will provide you with all of the skills and knowledge you will need to pass the Driver CPC. The package consists of:
– 10 hours of lessons with one of our experienced coach driving Instructors.
– Coach hire for driving test including 1 hour pre-test lesson with your instructor.
– Practical and theory training for CPC test.
– Study material and questionnaires